Post pobrano z: Modern Take on Responsive Web Design with Best Examples
Any professional web designer knows that a responsive web design is a must for modern websites. However, in reality, not all website owners are ready and/or eager to add the responsive mode to their website' toolkit. "Why neglecting a responsive web design means going downhill?" and "How can your website benefit from small-screen devices?" are the two questions that we want to cover in this post.
What is a Responsive Web Design?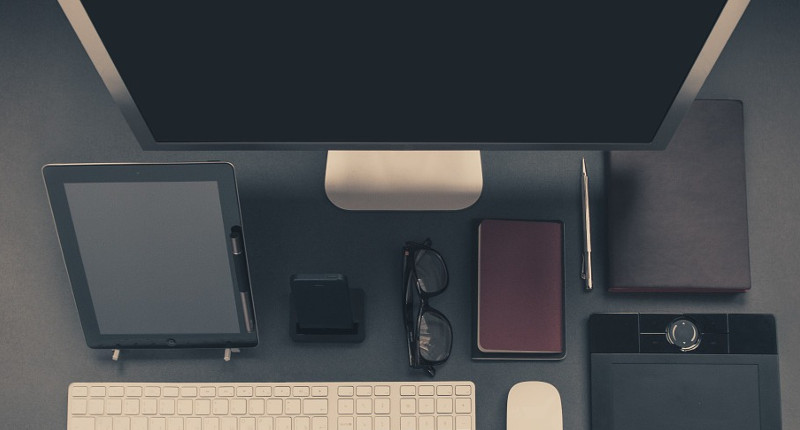 In short, a responsive web design is a set of tools that allow your website to look smart on any modern device. It means that regardless of how big a screen of that device is, your prospective online visitor will have the smooth experience while browsing your website. As this data from the responsive website infographic below demonstrates, the share of the traffic coming from devices other than a desktop computer was already 54% in May 2017. In other words, a number of users of small-screen devices is constantly growing, and responsive web design may be your best business investment this year.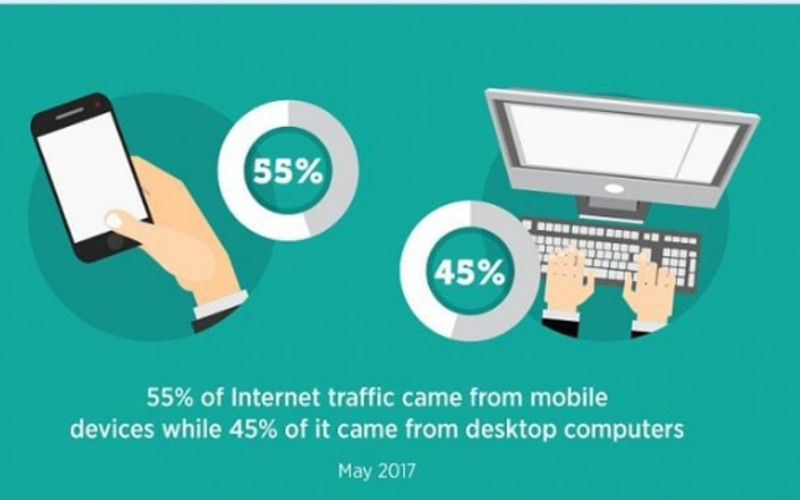 So, if a responsive web design is such a living miracle, why would some website owners neglect the importance of small-screen devices? The most common reasons include:
a website owner does not feel threatened by competitors as (s)he believes that their website has a solid online presence;
a website owner is not competent enough to recognize the benefits of a professional responsive web design website;
a website owner has not had enough time to develop a responsive website design as their website has been recently launched.
If when reading this post, you start wondering how you can get a responsive web design too, then here is great news. There are two ways to make sure that your website follows the latest tendencies in the web design in terms of being responsive. One way is to hire a web agency. The agency can either come up with a mobile-friendly version of your website or develop a mobile app (for more details on the difference between the two options, see the section below).
Another way is to opt for website builder templates that are already 100% responsive. This is a perfect way for non-programmers who do not want to bother with details about a responsive web design. Usually, with pre-populated website templates, you can see right away what your future online project will look like on modern devices. To do so, just switch between different modes, i.e. a desktop, a tablet, and a mobile (horizontal and vertical options) in the live demo.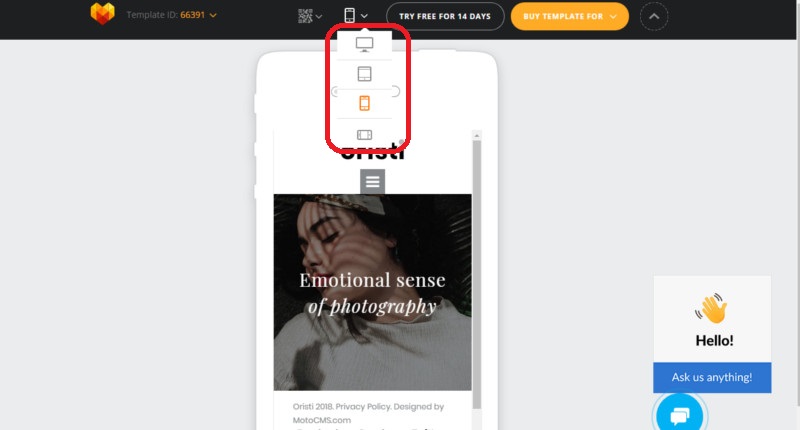 Responsive Web Design vs. Mobile Website vs. Mobile Application: Key Differences
Now that you realize the importance of the reasons why your business should have a responsive website, it is time to figure out how you can handle small-screen devices. There are several options here:
A responsive web design. The top reasons why it has become the top choice for the majority of website owners include the universality, one URL-address, the better SEO potential, and the high manageability.
A mobile website, which is best when it comes to the loading speed and targeting mobile users intensively.
A mobile app. There are lots of benefits of a mobile app, especially in terms of promoting the brand and the safety issues.
Which option to choose depends solely on the type of a website you own. While you are still considering ways to deal with mobile users, have a look at our collection of templates that demonstrate the real beauty of responsive websites.
Best Examples of Responsive Web Design
Arctic Startup Website Template
Not only is Arctic Air responsive, but it is also lightning fast. In practice, it means that your prospective visitors will get to enjoy browsing your website from any device. No matter how much heavy data, i.e. videos and/or high-resolution images, you are planning to use on your website, the quality of the data and the loading speed will remain excellent.
Skyline Multipurpose Website Template
Skyline is the responsive website design that allows you to choose between several child themes. View the live demo to get amazed by the professionally developed Homepages for a dentistry, a house construction company, and a travel agency. On top of that, Skyline contains 15 pages, each aimed at a specific content section of your future website, e.g. Careers, Testimonials, Projects etc.
maRs Startup Landing Page Template
The imagery used in maRs is proof that a professional web design can look eye-catching and serious at the same time. The color palette of maRs is dynamic, easy to customize, and can be applied to startups in different market niches. In addition, this template is 100% user-friendly thanks to the intuitive admin panel and the 24/7 tech support available via a mobile or a live chat.
Zephyr Photo Gallery Website Template
Zephyr is your top choice for presenting creative projects online. Feel free to choose between five professionally developed Homepages, add your content, and go online within the shortest terms. As you see in the live demo, even though the imagery plays the key role in this responsive web design, it does not compromise the loading speed
Oristi Photographer Portfolio Website Template
Designed as a responsive personal portfolio for photographers, this template is available for a 14-day free trial. Have a look at gorgeous the pre-populated pages of Oristi that look perfect in different modes, i.e. a desktop, a tablet, and a mobile. Feel free to experiment with the drag-and-drop website creator in this website template to create the unique online project!
To Sum Up
A responsive web design is a universal way to satisfy the demands for the better user experience for small-screen devices. Although a responsive website is not the only way to handle mobiles and tablets (as there are also mobile websites and mobile apps), being responsive considerably increases the chances of your website's success on the web.